Simple Tricks Make 3d GIF Production of Inspiration Pop up Constantly
An easy yet powerful editor
Numerous effects to choose from
Detailed tutorials provided by the official channel
Making and sharing animated GIFs that practically pop out on your friend's screen can be just the magic one needs to start their day.
3D animated GIFs are growing in popularity and surprisingly, because of a simple trick that even you can try out.
What separates 3D text GIFs or 3D animation GIFs from your regular GIFs is that they are bit more difficult but far more fun to make.
3D GIFs are where it feels like the picture is coming out of your screen. Of course, this is just a visual illusion which can be recreated over any video GIF that meets specific parameters.
Part 1
Examples of Inspiration for Fun 3D Gifs?
Remember that simple trick we mentioned earlier? This approach lets you create convincing 3D GIFs in an easy but deceptive way.
The actual magic behind this trick is the use of white lines that act as reference points separating 3 panels in the image.
Now, any animated elements of the GIF image will seem like they are popping out beyond the pre-set white lines and towards the viewer.
These white lines are used as referencing lines on the screen allowing our brains to bewilder at a passive 3D GIFs coming at us from the screen.
You can recreate this same affect with a few popular GIF makers.
Just to give you a taste of what it looks like, we have enlisted few trending pop culture 3D GIFs that are trending;
● We have all heard of Earth's Mightiest Heroes, and Cap' throwing his shield is certainly a fan favourite 3D GIF.
● Heard of Skull Island? Then you better call Skull Pest Control.
● Who wouldn't love puppies? Well, here's two.
● When you're tangled up in things you don't understand.
● You definitely don't want to see this squirrel in your backyard.
● Make sure to get a good shot of caffeine when commuting through Elm Street.
● Ray Advertising is getting more innovative each year.
Part 2
Top 5 Ways to Make 3D GIF
The most instantaneous thing you can do to start making GIFs in your own free time is by using a GIF maker online. Online platforms like GIPHY and Imgflip (three more mentioned below) uses pre uploaded image and video content to create GIFs with the help of filters, texts, emoji's and background effects.
You can simply create creative GIFs and share them directly to your social media pages. Of course if you are running your own business, you can choose to hire your own GIF animator for more personal banners and adverts.
On the other hand, if you are just sparking your creativity using a GIF creator to start out making simple animation GIFs. You can also use a GIF generator to create your GIFs from existing videos.
Now buckle up your imagination and let's get GIFing.
01
Wave.Video
This GIF creator earns its place among the best with sheer convenience. It is by far the easiest GIF maker to use on this list. You can get used to its editing interface in a shorter span of time and make amazing 3D GIFs using versatile features that are bound to impress your friends. Sharing your GIF is quite effortless with Wave.Video. You can take on small portions of your video and make a GIF out of it. It offers an amazing library of stock footage which you can use for a lot of other things too like creating intros for your videos.
02
Make a GIF
If you have an image or a URL of a video and you wish to make an animated GIF out of it then Make a GIF is the GIF creator you need. Using this online free tool you can make GIFs out of any Facebook image or video URL. The Make a GIF interface also facilitates using your device's webcam to click pictures and short clips for our GIFs and add them to the interface using drag and drop facility. You can select from pre uploaded stock samples from over a dozen different categories.
03
Imgflip
When you not only need a GIF creator but an Editor as well, go for Imgflip. You can adjust and make changes in your GIF while creating it. It has tools designed into its interface that enables you to adjust the quality of the pictures you upload, their height and width as well. In terms of editing video GIFs you can tweak with the animation time and make adjustments in terms of placement of images using some of Imgflips amazing free tools.
04
GIFMaker.me
Yet another animated GIF generator which simplifies your path to unlocking your GIF creativity skills a lot faster using images and videos. GIFMaker.me is compatible with all operating systems namely Windows, Mac and Linux. Although its arsenal of tools is quite basic and lets you only size/resize and reverse your GIFs. GIF maker has a very basic interface but can fulfil a fair average of your GIF creation needs.
05
GIPHY
We kept the best for last and even if you type in making GIFs on Google, you might come across this search name quite often as pretty much lot of people are using it. Spark off your GIF creating drive with GIPHY which is an all-rounder in this arena. GIPHY has several awesome features that let you create GIFs by uploading images, videos and even URLs from YouTube or Vimeo or GIPHY itself. Its interface is simple and hassle free to use and lets you add filters, text, stickers and drawings to your GIFs.
Part 3
How to Make 3D Gifs in Videos More Textured
You can use GIF makers to create loops in videos you upload but the trick to making your 3D GIF stand out is about to be explained in the following.
● Step 1: Choosing an Image.
The first step in creating a 3D image is to carefully sort out which moment in your video you wish to convert into 3D. Pick an images or video clips that already have an element that pops out in a forward moving motion.
● Step 2: It should have a smart composition.
Becoming a creator means you need to know more about composition. This can be applicable to anything from making virtual designs to creating GIFs. 3D GIFs requires you to use a special Tumblr 'frame' that adds two breaks to the image which creates three horizontal panels. In exceptional cases, you could also use three break points and divide the image into four panels.
● Step 3: Become a content creator.
It's okay to feel a bit off beat when trying out new skills but the prospects are rewarding. Try taking your own video footage, edit in Photoshop or any similar editing software. You can also opt for instant GIF creator apps that directly converts the footage or image you clicked into a GIF.
● Step 4: Making the split.
The next step would be splitting the image or frame into three panels as guideline for the 3D effects. In Photoshop you can import a GIF and choose 'View' from the navigation menu and then click on 'New Guide' from the drop down menu. Set the guide to 33% at first and 66% in the second.
● Step 5: Placing the magical white lines over the guides.
From the shape menu on the sidebar, select the rectangle tool. Right click on this tool to get the shapes menu. Set 'Fill Colour' to white and set the weight to five pixels. Click and drag the lines over the guides.
● Step 6: For the final touch.
Merge these line layers and add a layer mask. The objective here is to only mask the panel where the main 3D element of the image which will be moving beyond the guides. How it is done is that you make copies of the frames where the animation goes beyond the guidelines and mask the layers where the element is over the visible layer.
● Step 7: Enjoy your GIF.
Once you are done masking every frame that you have copied. Replay your GIF to see if everything is in order.
Bonus Tip: Use Wondershare Filmora Video Editor to easily edit your videos using amazing tools, filters and affects. You can then make cool 3D GIFs from the videos you make.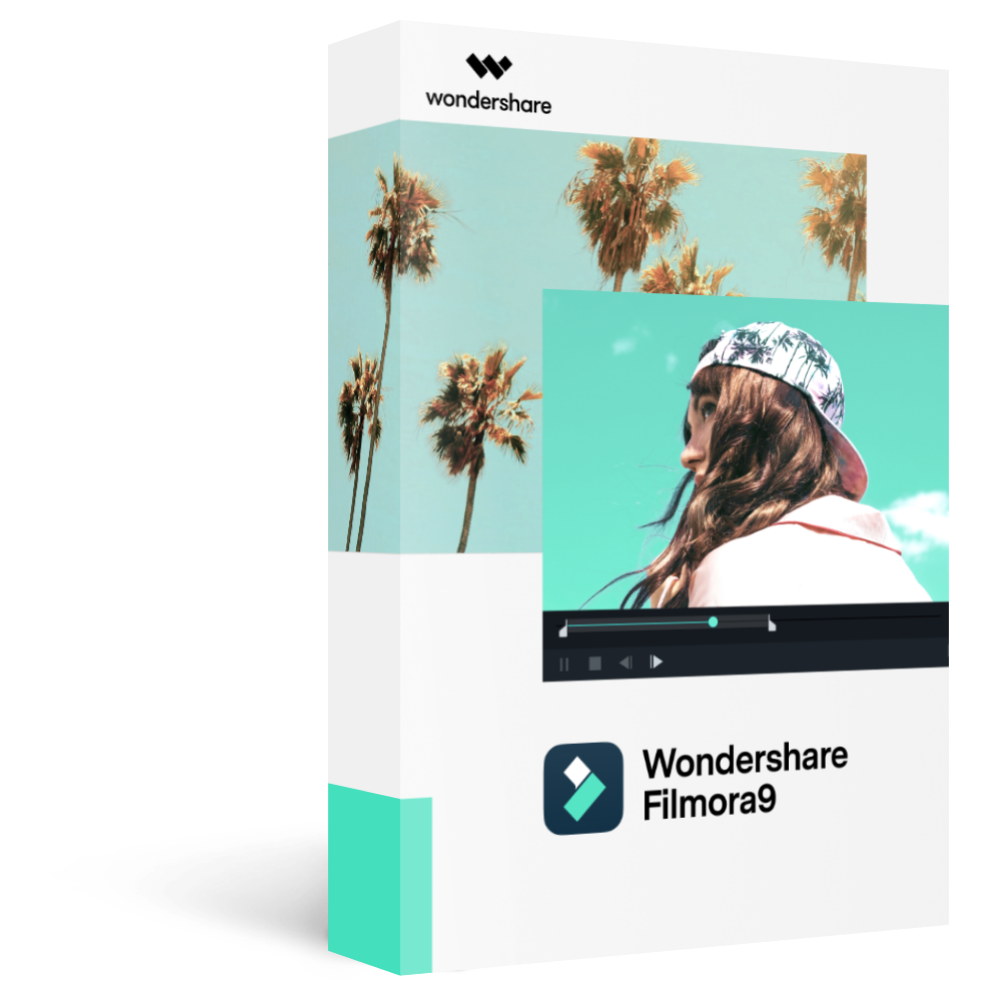 Wondershare Filmora - Best Video Editor for Mac/Windows
5,481,435 people have downloaded it.
Build unique custom animations without breaking a sweat.
Focus on creating epic stories and leave the details to Filmora's auto features.
Start a creative adventure with drag & drop effects and endless possibilities.
Filmora simplifies advanced features to save you time and effort.
Filmora cuts out repetition so you can move on to your next creative breakthrough.
● Key Takeaways from This Episode →
● Animated GIFs are interesting and fun to share with friends. They also make for effective advertising banners and conceptual promotions. So there are lot of applications for learning this skillset and is certainly is fun none the less.
● The easiest way to creating GIFs quick and easy would be by using a GIF creator. There are several amazing GIF creators online with fantastic features you can leverage to make amazing 3D GIFs.
● The basic trick which you should remember is using horizontal guidelines and an element which is moving towards the viewer. Keeping this in mind you can recreate amazing videos in fun GIF moments.