FREE Best 5 Tools to Remove Watermark from an Image [2023]
Many times, whether you need to urgently edit a picture to aid you in the presentation or want to clean it up for adding it to your webpage, removing watermark from images is a tedious task.
There are several software or online solutions out there to clean your images of unwanted objects. Here's a brief guide about the 5 best tools to remove watermark from a photo and step-by-step tutorials.
Related: How to Remove Black bars without quality loss
---
Wondershare AniEraser
Seamless, Effortless, Intuitive.
AniEraser makes it easy to perfect any photo or video; no matter the device or platform - experience a smooth, effortless transformation of your image and maximize its potential with just one click.
Make your moment perfect.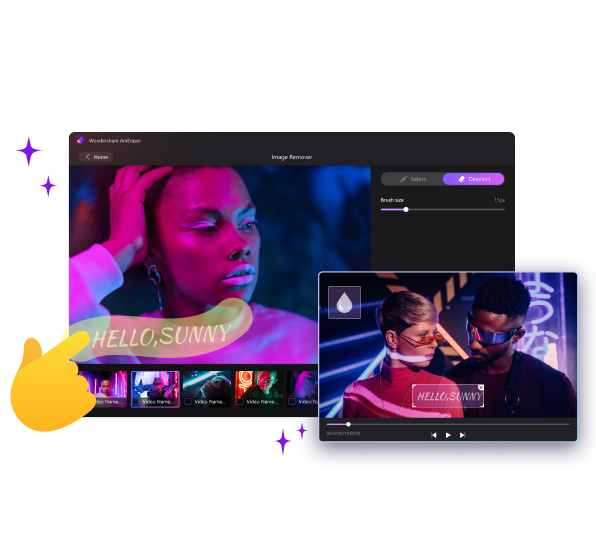 Using Filmora to Remove watermark from video images
If you want to remove watermarks from video images, you can try Filmora video editor. This video editor provides three different ways to get rid of watermarks. You can crop the video frames to remove the watermark, blur the watermark and adjust the blending modes, or replace the watermark with your logo.
Learn more details about How to Remove Watermark from Video
Download Stock Photos and Royalty-Free Images from Filmstock
Filmstock is a one-stop shop for royalty-free video effects, music and sound effects, stock video footage, and photos. You can download both video effects such as titles, filters, elements, and transitions for Adobe After Effects and Filmora Video Editor as well. You can choose photos and images in the image library on Filmstock in a different orientation. The photos in Filmstock covers about 20 categories so that you can find the desired photo for every occasion.
---
5 Best Tools to Remove Watermark from an Image
The best thing about Wondershare Fotophire is that it does not require any knowledge or learning. Even if you are using it for the first time, you can do it single-handedly without expert help. For detailed information about removing watermark from the image with Fotophire on Windows, keep reading to check out the detailed tutorial later.
Pixlr is an amazing free online photo editor widely used to remove watermarks from images. It has various arsenal features similar to Adobe Photoshop. The best thing about Pixlr is it is easy to use and support multiple languages. One can easily remove watermarks from the image using the stamp tool. It does not require installation or registration.
Another amazing online tool used to improve, repair, and retouch photos is Photoupz. You can also erase unwanted objects such as the date and numbering of the images with this highly useful tool. You may also improve the brightness of the images and sharpen the borders if required.
The new version of Photoshop CS5 uses various handy tools that greatly help remove watermark from an image. The tools such as 'Spot Healing Tool', and Lasso Tool' greatly help remove unwanted marks,dates and times from the images.
Using photo stamp remover, you can erase various artifacts such as logos, time, date, and other undesirable objects from an image. It is also an amazing tool to remove skin imperfections and give your old photos a newer touch. It can effectively clean tattoos, wrinkles, and acne from the pictures.
Those were several broadly used online tools that can solve your purpose of removing unwanted objects from the images. You may get some of them free of cost. However, others may require buying their license or product.
Read More to Get: Best Free Online Video Editors With No Watermark >>
How to remove watermark from an image using Fotophire
If you wonder how to use fotophire, then we have solved your purpose. We have broken down the process into various steps to follow it easily.
1. Open the image in Fotophire Photo Eraser
2. Select the watermark Area
To begin with the process, you need to select the watermarked area using the marker tool. You may also use a magic wand tool to select the watermarked area with one click.
3. Click Erase
After selecting the watermarked area, click on the 'Erase' button, it will process the image and remove the watermark from it.
By following these three simple steps, you can remove all the unwanted objects from the image. Similarly, you can utilize fotophire for:
Removing Unwanted people from an image
Rejuvenating an image i.e, removing acne marks, wrinkles, and black spots
Fill back areas of Panorama
Remove power lines from a picture
Clone yourself on a photo, etc
It has become possible to give your pictures a smooth touch using fotophire. At the same time, it could take hours to recreate your images after removing flaws from them. However, if you encounter any problems while using fotophire, the help and support team can answer your questions and queries that might come along the way.
Inspiration: If you want to make a photo/video slideshow with these beautiful watermark removed photos, please download Wondershare Filmora right now:
You May Also Like
by Liza Brown May 16, 2023 18:58 PM
by Liza Brown May 16, 2023 19:07 PM
by Liza Brown May 16, 2023 18:51 PM