Create High-Quality Video - Wondershare Filmora
An easy and powerful YouTube video editor
Numerous video and audio effects to choose from
Detailed tutorials provided by the official channel
Sometimes, it takes a good video trimmer to get your video in the right shape and look more professional when you can trim videos without a watermark. Nevertheless, some of these videos trimmers for PC are relatively expensive. Other free options come with watermarks, making it hard to use them for cooperative or commercial purposes. Below is a concise review of 8 free video trimmers to trim videos without a watermark to help you make the best choice that suits your editing need.
8 Free Video Trimmer to Trim Video without Watermark
Wondershare AniEraser
Seamless, Effortless, Intuitive.
AniEraser makes it easy to perfect any photo or video; no matter the device or platform - experience a smooth, effortless transformation of your image and maximize its potential with just one click.
Make your moment perfect.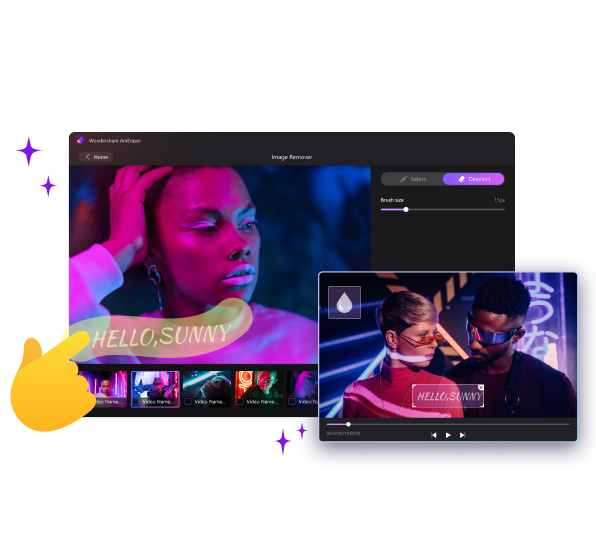 1. VSDC Free Video Editor
It is a watermark-free professional video trim software. It's also one of the finest video trimmers without watermark because of its non-linear video editor, which lets users apply visual and audio effects to increase video quality. It is popular for its concealing and blurring feature, so you can easily remove watermarks on videos, if any, and draw attention to specific portions of the video.
Operating System: Windows
Pros
No watermark was added on the video on completion.
Cons
Not suitable for amateur editors since the features are so many.
2. Video Grabber
Video Grabber is a free online video cutter that removes watermarks from videos. It also gives you access to many popular videos and options to download and reuse. It supports a wide range of video formats and helps with audio and video conversion to formats like AVI, MOV, ASF, MP3, MP4, MKV, WMV, MPG, FLV, WMA, M4A, AAC, WAV, AC3, etc. With Video Grabber, you can easily record the screen on your PC.
Operating System: Online but compatible with iOS and Windows
Pros
It can download videos from other online sources.
It has a converter and recorder.
Cons
You can't work without the internet.
3. Pavtube
Pavetube is one of the best options to use if you want a video trimmer without a watermark. Though it has a premium option, the free version is still one-of-a-kind in that it has no time limit and is readily accessible online for free.
In addition, the software includes editing tools that allow users to change the video and audio codecs and video resolutions, frames, and bitrates. Briefly, the application does more than merely clip videos.
Operating System: Windows and iOS
Pros
High-quality trim result.
Retains the original nature of the video.
Cons
A little complex for new users.
4. Aconvert.com
Aconvert.com is an alternative online video cutter that does not include a watermark. It is an all-in-one audio, image, video, document, and eBook converter. Furthermore, you can export the videos in various formats, including MPG, MP4, FLV, AVI, WMV, MKV, etc. Editing the video takes only three steps to complete.
Operating System: Online but compatible with Windows and iOS
Pros
Support many file formats.
Safe upload in case of confidential files.
Cons
Cannot handle files beyond 200MB.
5. Weenysoft
Weenysoft is another tool that can trim films into small parts. However, you can also trim the video and adjust the audio quality, size, video frame rate, and bitrate of the video. Furthermore, this tool can assist you in backing up videos with big file sizes.
Operating System: Windows XP, Vista, 7, and 10 computers
Pros
Straightforward user-interface.
Flexibility with video and audio manipulations.
Cons
Not professional and might affect video quality during trimming.
6. Online Video Cutter
Online Video Cutter is the next video trimmer without a watermark. It is an online-based program for trimming huge files into smaller parts. You wouldn't need to install extra software to use it. Aside from cutting videos, it also allows you to edit them by cropping, trimming, rotating, and other methods.
Operating System: Works well with iOS, Windows and Linux
Pros
You can upload the videos via Google Drive or Cloud
Cons
The file upload process takes time.
You can only upload about 500MB at a time.
7. Gihosoft Free Video Cutter
Gilhosoft is a free video trimmer that makes it easy to edit videos in almost all formats, including MOV and VOB. If you are looking for a free video trimmer without watermark options, then Gilhosoft is one option to give a shot. The best part: It provides after installation user guides on how to crop videos and adjust the l No hassle with watermarks; upload your video, trim and then save it into your PC hard drive.
Operating System: Windows and iOS
Pros
Works well with over 100 video formats.
Cons
Best for basic video trimming, not for major projects.
Bonus! Remove watermark from your videos
Removing a watermark isn't bad, especially when you put in a lot of effort to create and edit the video. Watermarking means that the person using or handling the video is not the rightful owner; this is possible with the help of tags or logos. Luckily, there are simple ways to help remove watermarks from any video. However, some of this software is easy to use; you to edit the video file before uploading it to YouTube or any platform of your choice. Below are two simple steps to remove a watermark from a video:
1. Remove Watermark with the Crop tool
This method will entirely remove the watermark from your movie, but it will also crop out a portion of the video that contains the watermark. It might not work well with all video options, so you might lose some vital parts of the video frame. However, you can use Wondershare Filmora software to crop out the edges containing the watermark.
By this, import your video, right-click on the timeline, zoom the video and click on "crop" to manually trim the edges to your chosen size or use the automatic option to select a ratio. Now adjust the edges of the cropping box to remove the watermark. You've successfully erased a watermark from your movie by clicking OK to apply the cropping effect.
However, one of the setbacks is that you will have to cut out some parts of the video, and it does not work if the watermark is in any other position other than the corners.
2. Apowersoft Website
Apowersoft is a web-based platform that allows you to remove watermark from video clips and images in very few steps. Other features available on the website include file compressor, Movie edition, video producer, and many more. However, below is a guide on using Apowersoft to remove watermarks from your video.
Go to apowersoft.com in your browser. Then click on "Products & Solution" to choose from the Video Editor tab of the Online section.
To remove the watermark, search and click on it.
You can now upload the video to the website. After that, click the preview button to see a video preview, and then click the Add Box button to select a watermark for the video.
Click on the "Erase button" to crop out the watermark section.
Finally, download it to your PC.
Conclusion:
● Finding a video trimmer without a watermark can be difficult, and the truth is, having watermarks on your video makes it unprofessional. Though it might be for fun or personal use, why leave the watermarks when you can trim them off with a few clicks. There are many video trimmers out there, but the ones listed in this article will help you trim videos without watermark and, most importantly, without really losing the original texture of the clip. Therefore, you can check them out to see what works for you.