Great Video Converter - Wondershare Filmora
Provide abundant video effects - A creative video editor
Powerful color correction and grading
Detailed tutorials provided by the official channel
Introduction.
Many people have been searching online for the best GIF to MP4 converter that will help them playback their GIF files on their media player. It is easier for GIF animated files to be converted to MP4 files, as Mp4 is the most popular file format compatible with many devices. Some compatible devices include iOS devices, Mac, Android devices, Windows, etc.
By converting GIF into video, you make a wise move as an encoded MP4 video contains richer colors and higher resolutions, weighs 5 to 10 times lighter in file size, and has engaging audio compared to the GIF. In addition, MP4 is also a wide-known and accepted format for social sharing videos across the web. So, whether you want to convert your Gif to Mp4 for Instagram or you intend to add songs to your animated texts and convert to Mp4, this article will help you out.
We shall explore: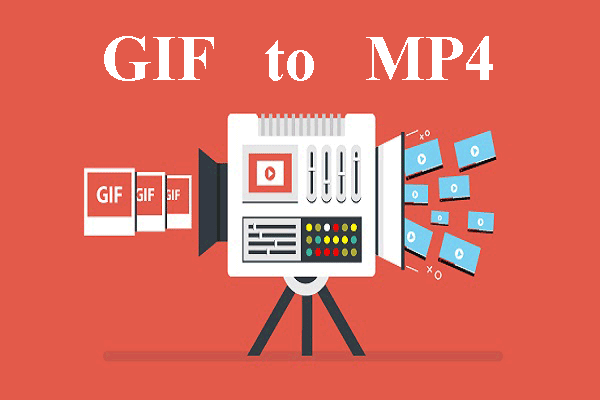 Part 1: Best Online GIF to MP4 Converters
GIF pictures are a perfect source of entertainment and can also be helpful as memes on the internet. Those wondering what a GIF picture is all about are small videos without sound. They can be used in the comment section of the internet or sent as memes in messages on smartphones.
However, due to third-party keyboard applications, the use and sending of GIFs have become very easy. Thus, many people are trying to migrate from GIF to MP4, and this article is for them. We will give you the best four (4) GIFs to video converter online that you can use.
Ezgif is a free GIF to MP4 online converter that allows you to turn your ezGif GIF into MP4 videos with a single click leaving no watermark on your video. The process is relatively easy as you just need to upload a GIF file up to 35MB, then click the "Convert to MP4" button, and your MP4 video will be ready. Besides, it supports the conversions of WEBP and APNG to MP4.
Pros
It is super-fast and free.
It does not have a watermark.
There is no advert on the site.
It does not require any software to download.
Cons
It allows you to convert one file at a time.
Adobe Creative Cloud Express is a collection of mobile app-based and web-based video editing tools that all content creators use. It allows you to upload GIFs online and then convert GIFs to MP4. It also allows you to trim the GIF and directly download the MP4 to the local PC.
Pros
it allows you to trim the GIF
it is available online and on App Store
it does not require any software to download.
Cons
Allows you to upload one GIF at a time
This tool is a feature-packed online video maker and GIF to MP4 converter. It allows users to easily upload GIFs from either their mobile phones or PC to FlexClip's in-browser editor and also make some edits with both the GIFs and videos before you can convert them.
Pros
No software downloads are required
There are tons of features available
Cons
You cannot change GIFs speed
This online conversion tool has made GIFs to MP4 conversion much more effortless. This free GIF to video converter has a simple interface and easy-to-use tools that help you turn GIF files to MP4 in a few clicks.
Pros
You can convert several files at once.
It does not require any download.
Cons
There are loads of ads on the site.
You can only use 2 concurrent conversions for the free account.
Part 2: Top GIF to MP4 Software
Many people have tried different software to convert GIFs into MP4 that have proven abortive. Most software on the internet only allows you to convert MPEG to GIF, WMV to GIF, or images to GIF files. Only a few software allows the conversion from GIF to videos.
Here are some of the top 4 GIF to MP4 Conversion software:
Filmora Video Editor is the best software to convert any GIF picture to an MP4 video file. The best part is that you do not need to use the internet, and it works perfectly for all users. In addition, the software is super stable and does not crash even if you load more than ten video files on it. However, the Filmora video editor is a complete package that allows users to edit and convert any video with many accessible features. More so, you are not required to be a professional video editor to be able to convert the GIF image to a professional video.
With the Filmora software, you do not have to download and pay for the music, as the editor also has a great music library from which you can choose to add music within seconds. Moreover, the software has more than 100 different text styles and effects to make your GIF into MP4 videos more beautiful.
Pros
Available for both Windows and Mac Users
Beginners can also use it
It is free and easy to use
You don't have to use the internet for it to work
Cons
It requires you to download it on your PC
This free online service tool allows users to convert any GIF image to an MP4 file. In addition, the user interface is quite tricky, but you can edit the videos, trim the videos, and crop them. Users can add subtitles to videos using the SRT files, and finally, you can export files directly to the Dropbox account.
Pros
It helps you export videos directly to your Dropbox
It provides you with a ton of audio and video editing features
Use SRT to add subtitles to your videos
Cons
It has a complicated user-interface
It does not support uploading to video sharing websites

This is a perfect tool to convert GIF image to an MP4 file. In addition, this is a complete online video editor that allows users to perform various kinds of basic video converting options on their files. Users can rotate or crop the videos and extract the unwanted parts from the screen. Once the videos convert successfully, they can be downloaded or directly exported to Google Drive or Dropbox.
Pros
Users can directly export the converted files to the Cloud services
It allows users to convert different files to MP4
It provides users with files settings for basic video editing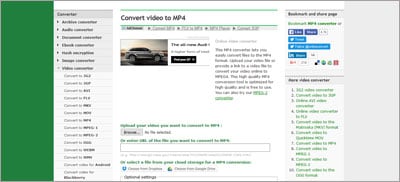 One of the most popular file conversion websites offers this video editing software. In addition, it provides various video editing services rather than just converting GIFs to MP4 video files. It also provides a few settings, including size, resolution, and frame rate.
Pros
· Allows users to change the quality of the output videos
Cons
· Using the service requires sign-up
It does not have an option to crop the Mp4 Videos or edit the frame rate
It does not have an option to export the videos to the third-party cloud services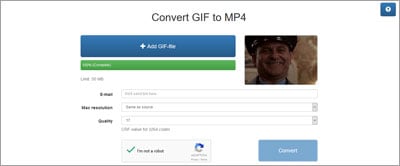 Part 3: How to Convert GIF to MP4
Here are the quick and easy steps to Ezgif GIF to MP4 online conversion:
>
Step1: Choose File to Browse or Copy-Paste URL to Upload
Upload a GIF file to your timeline or paste an image URL that is up to 35MB and Click the "Upload" button
Step 2: Tap on Convert GIF to MP4
After the upload, click Convert GIF to MP4, and it will automatically get converted.
Step 3: Download the MP4
Export your video and download it on your device
Here is how to convert GIF to MP4 using Filmora software:
Step 1: Install Filmora and Choose New Project
Open your Filmora software, click on New Project import GIF, or drag and drop them to your timeline.
Step 2: Import Media
If the media aspect ratio and resolution do not match when importing a file, a popup will appear. Make sure you click on DON'T CHANGE.
Step 3: Convert GIF to MP4
Click on export, then you rename and select your desired file format (MP4), and your GIFs will automatically convert.
Step 4: Export and Save
Finally, you can save the file on your device once the conversion process is complete.
Conclusion
From this article, we can pick that Ezgif is the best online tool and Filmora video editor is the easiest and perfect software that is good for GIF converter to MP4. This article also listed other video editors that can help you make GIFs from MP4 quickly and without stress.